The Simpsons Apologize for Calling Judas Priest "Death Metal"
By Hayley St. John | Wednesday, January 15, 2014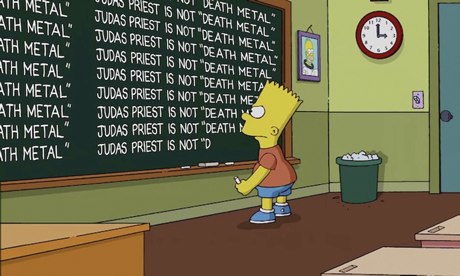 Photo: Fox
These days, watch what you say. It'll probably be, one way or another, politically incorrect, or in this case, musically incorrect. Wrong genre, Simpsons!! Remember the video of Judas Priest making an appearance on 'The Simpsons?' I thought it was pretty good stuff, but the more dedicated of the Judas Priest fans didn't necessarily giggle at it as much as I did, or at all. The "Death Metal" comment hit a little too hard for 'em. And now, poor Bart had to write "Judas Priest is not 'Death Metal'" on the chalkboard a 150 times to make up for the musically incorrect Swedish man on the episode that labeled them 'DEATH METAL.' No comment from any of the Judas Priest boys on this crazy mix-up yet.
A clip of the episode here:
From HeartbreakHotel